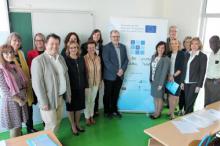 FINKI is a partner in the project GLAT – Games for Learning Algorithmic Thinking. GLAT (2017-1-HR01-KA201-035362) is a project under the Erasmus+ Programme, Key Action: Cooperation for innovation and the exchange of good practices – Strategic Partnerships for school education. The project has started on 2nd of October 2017 and it will end on 1st October 2019.
The main objective of the project is encouraging the integration of coding and algorithmic thinking into the daily teaching through different subjects in students' younger ages in a fun and attractive way. It will be achieved by further professional training of teachers including the acquisition of the contemporary knowledge and skills connected to different innovative teaching methodologies. Special focus will be on using educational strategies of Game Based Learning (GBL) and gamification in order to foster creativity, logical thinking, and problem-solving skills.
The project consortium brings together European experts in the field of didactics of informatics, e-learning, and GBL who will work on the development of the syllabus and learning materials for training course aimed to the Croatian primary junior grade teachers but it can be applied to all teachers across Europe.
The Kick-off meeting was held in Rijeka, 19-th October 2017.