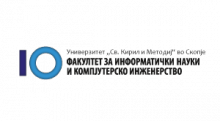 Предмет: Блоковски вериги и криптовалути
Тема: Overview of Web3 Entrepreneurial Education
Датум: 13ти Април (13.04.2022) - среда, од 12 часот (пладне)
Daniel is an entrepreneur and investor with primary focus on decentralized web technologies.
Daniel is the founder, general + managing partner of Bitfwd Capital (比特未来 - 区块链资本), and serves as strategic advisor to several globally leading blockchain projects.
Daniel was selected as impact entrepreneur fellow to join the Edmund Hillary Fellowship program in partnership with the New Zealand government.
Prior to Blockchain technology ventures Daniel was involved in research and engineering roles in Quantum Computing hardware, Nanoelectronics and Biosensors.
Daniel holds an MSc degree in Nanotechnology from the Technion - Israel Institute of Technology, drop out from PhD in Electrical Engineering in UNSW and an alumni of the Orion Entrepreneurship program from the Business School at the University of New South Wales.
Daniel cares deeply about wellbeing and education, advancement of indigenous people, gender equality, diversity & inclusion, and environmental sustainability.
About Bitfwd Capital firm:
Bitfwd Capital (比特未来 - 区块链资本), is a boutique hedge fund and venture builder firm specialized in liquid crypto assets management, opensource software commercialization, Web3 infrastructure and cryptoeconomic systems.
Bitfwd Capital is a global firm with unique advantage across several verticals:
Technical:
Deep technical expertise and active involvement in building and commercializing blockchain, p2p and other decentralized technologies since 2015
Dealflow:
Bitfwd Capital as a firm was established and operated by business minded experienced technologists and nerds. Bitfwd Capital has proprietary network of world class founders. Partnering with Bitfwd a capital is highly competitive, we're very selective of the projects we're backing.
Global cultural advantage:
Bitfwd Capital has deep ties to venture ecosystems across Silicon Valley and the US, Israel, Europe, South East Asian and a uniquely strong advantage in the notoriously hard to bridge Chinese venture ecosystem.